Pro-Inspector For Construction Industry
Construction Industry is a very huge industry by its nature and can be divided into several phases from planning, designing, bidding and project handover of the project done by Construction companies.
Construction Industry on the whole can be broadly classified into
Residential building construction
Light commercial construction
Multi-family construction
Health-Care Construction
Environmental construction
Industrial construction
Commercial building construction
Institutional construction
Heavy civil construction
In the United States and EU, the industry has around $1.5 trillion in annual revenue according to statistics tracked by the Census Bureau. The Construction industry is one of the largest employers in the United States, European Union and most of the developed and developing countries.
Construction Industries and Inspections
Construction industry is a very primitive industry to be employing inspections at each and every phase of its development. Inspections in construction industry are deep rooted into its architecture by itself and are inevitable. In today's competitive international market, consumers both residential and commercial are increasingly becoming aware of the Construction industries and demand a good quality for projects undertaken. Construction firms wanting to satisfy client adopt in a lot of inspections throughout each phase of the project. Inspections are commonly done at head offices, site offices, consultant's offices and other relevant offices. Their inspections start with documentations, discussions or interviews with managers, site visits and end with reporting.
Some of the important inspection are – construction project inspections, resources inspections, justification inspections, contracting and pricing inspections, control and monitoring inspections, accounting inspections, labor inspections, equipment inspections, safety inspections and so on… Often an internal or external Construction Inspector's services are needed to obtain the proper permits and certificates of completion as awarded by local, state and the federal governments of any country. Inspections can precisely track and manage subcontracts, daily logs, and request for information (RFI), Quotations, proposals, progress, orders, charge back, drawing logs, transmission, submission and all other processes.
With growing complexity of the construction industry to manage large number of inspection reports and to overcome non-compliance of the government regulations, and to deliver the project on time to get profit, construction companies bank on inspection agencies and inspectors to deliver the best.
Construction Inspections of today-Highly Manual
Most of the construction inspection teams around the world spend only 30-40% of their time in inspections and the rest 60-70% is spent on administrative tasks such as planning, scheduling, preparing checklists, documenting and reporting inspections and so on. Given the complexity of the business and increase in the types of inspections that needs to be conducted, entire inspection process has become increasingly challenging. It is found that the industry relying on manual inspection process to manage compliance and traceability are unable to achieve best-in-class status.
Need to Automate Inspections
Necessity is the mother of Invention!!! As the saying goes, To overcome this challenge construction industries need a one stop solution that can help inspection teams to manage the entire inspection process. Thus automating the whole inspection process decreases the processing time and increases the number of inspections the internal or external inspection teams can do in a day. It provides with real-time visibility of information to those who need it so as to analyze and take up corrective and preventive measures. Cost and time involved in doing an inspection is substantially reduced.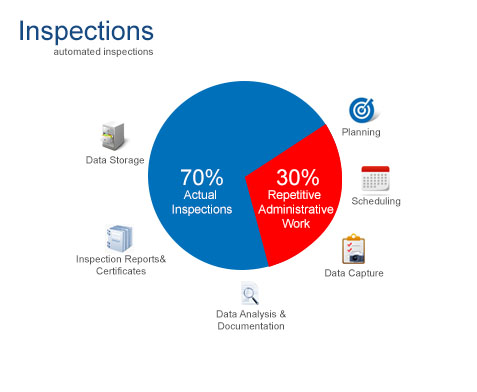 Why – Pro-Inspector
Pro-Inspector provides end-to-end solution to complete audit life cycle, from managing workforce to completing the audit.
Planning – Pro-Inspector aids helping the Inspection teams to start inspecting every phase of construction industry starting from designing the plan, drafting the blue print, deciding on the budget, financing the project, till execution of the project that need to be inspected and registering them in the system accordingly.
Scheduling – Scheduling done in the inspection team office was never this quick. It is just a drag and drop across a calendar to allocate the right inspector to the right phase of construction and at the right site to be inspected.
Pre-Inspection – All the information the inspector will need to prepare for his inspection will be available in his tablet in matter of clicks.
Inspection – Inspections are systematic, efficient and paperless. Pro-Inspector helps the organization to ensure uniform quality level across all inspectors. Data collections during inspections are highly automated.
Remote approvals – Whenever inspections need to be approved by senior team members in the back office team, they log into back office to approve the primary reports and recommendations from field inspectors.
Instant report generation – Generation of inspection reports can be done instantly after the inspection is completed. They can also be electronically printed immediately.
Follow up with corrective actions – After the reports are generated the corrective actions can also be maintained and they can also be scheduled, thus completing the whole inspection life cycle.
Integration with Existing ERP – Finally it can also be integrated with the existing ERP of the construction companies to ensure seamless integration into the existing IT infrastructure of the company.
Who will be benefitted
Pro-Inspector suits following businesses in industry
Local, State or Federal Building Inspection Department
Construction Companies
Design Companies
Interior Decors
Project Management Firms
Management and Construction Consultants
Approved Building Inspectors
Project Managers and Executives.
Line Managers and Supervisors.
Safety Staff.
Applicable Audits & Inspections
Pro-Inspector supports following construction industry audits & processes in
LEED Audit
ICC- International code council Audit
APWA Audit
Structure Audit
Fire Safety Audit
Site preparation Audit
Toxic Substances Audit
Ventilation Audit
Sanitation, Hygiene and Water Efficiency Audit
Drainage and Waste Disposal Audit
Combustion appliance and fuel storage system Audit
Protection from falling, collusion and impact Audit
Access Audit to and use of Buildings Audit
Glazing – safety Audit in relation to impact, opening and cleaning
Electrical Safety Audit – Dwelling Audit.