Pro-Inspector for Elevator Industry
Elevator came in to usage in the middle of 19th century. Every day in the U.S. and Canada alone elevator movement is equal to double the entire U.S. and Canadian population – over 210 billion passengers per year.
There is a misconception that manufacturer's o f elevators are responsible for equipment maintenance. There are inspection companies that do inspections as per the safety codes established by that country.
The elevator inspection details include Cleanliness of elevator cars, car tops, pits, machine rooms and machines, Lubrication of guides, rails, suspension means, safety linkages and machines, Adjustment of doors to ensure full closure at a correct speed and proper operation of the door reopening devices. Inspection of buttons, key switches, lights, indicator lamps, and audible indicators, Testing of elevator control system, acceleration and stopping capabilities, safety circuits, fire safety features and electronics, Review of the elevator machine's mechanical condition, adjusting or replacing gears, brakes, bearings or ropes when needed.
Elevator inspection is a rapidly growing sector that ensures safety for the travelers and goods. From a logistics standpoint, the need to coordinate inspection will be a very cumbersome task. Scheduled testing and a strong preventive maintenance program help to ensure the safety and performance of the elevators. Inspection interval of elevator is based on the usage, severity of equipment loading, operating environment and inherent quality.
Inspections of today-Highly Manual
Most of the inspection teams around the world spend only 30-40% of their time in inspections and the rest 60-70% is spent on administrative tasks such as planning, scheduling, preparing checklists, documenting and reporting inspections and so on. In maintenance it is tedious to maintain records, retrieve and review the historic data. Given the complexity of the business and increase in the types of inspections that needs to be conducted, entire process has become increasingly challenging. It is found that the industry relying on manual process to manage compliance and traceability are unable to achieve best-in-class status.
Need to Automate Inspections
Necessity is the mother of Invention!!! As the saying goes, To overcome this challenge elevator inspection industries from installation to maintenance need a one stop solution that can help inspection teams to manage the entire inspection process. Thus automating the whole process decreases the processing time and increases the number of inspections the agency or company can do in a day. It provides with real-time visibility of information to those who need it so as to analyze and take up corrective and preventive measures. Cost and time involved in doing an inspection is substantially reduced.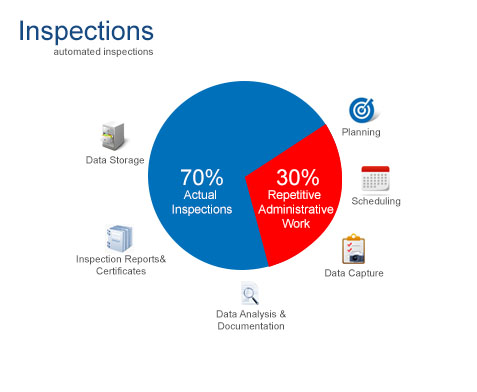 Why – Pro-Inspector
Pro-Inspector provides end-to-end solution to complete audit life cycle, from managing workforce to completing the audit.
Planning – Pro-Inspector starts from helping the Inspection teams to plan the assets or entities that need to be inspected and register them in the system accordingly.
Scheduling – Scheduling done in the inspection team office was never this quick. It is just a drag and drop across a calendar to allocate the right inspector to the right job.
Pre-Inspection – All the information the inspector will need to prepare for his inspection will be available in his tablet in matter of clicks.
Inspection – Inspections are systematic, efficient and paperless. Pro-Inspector helps the organization to ensure uniform quality level across all inspectors. Data collections during inspections are highly automated.
Remote approvals – Whenever inspections need to be approved by senior team members in the team, they log into back office to approve the primary reports and recommendations from field inspectors.
Instant certification and Invoice printing – Generation of inspection reports, certificates, tickets and invoices can be done instantly after the inspection is completed. They can also be electronically delivered or printed if necessary with portable printers.
Follow up with corrective actions – After the reports are generated the follow ups can also be maintained and they can also be scheduled, thus completing the whole inspection life cycle.
Integration with Existing ERP – Finally it can also be integrated with existing ERP of the elevator company to ensure the seamless integration in to the existing IT infrastructure of the company.
Who will get benefited
Pro-Inspector suits following businesses in industry
Third party Inspection Agencies
Certified Elevator Inspectors
State & Local Elevator Inspectors
Elevator Manufacturers
Government Inspectors
Applicable Audits & Inspections
Pro-Inspector supports following Elevator industry audits & processes in
Elevator Inspections
Escalator & Moving walks Inspections
Travelator Inspections
Dumbwaiters and Lifts Inspection
Acceptance Inspection and Certifications
Modernization or Maintenance Inspections
Elevator Maintenance Audits