Pro-Inspector For Food Industry
Food industry on the whole can be broadly classified into Grocery industry and Food services industry.
Grocery industry is one from farming and food production to packaging and distribution.
Food service industry or catering industry defines those businesses, institutions, and companies responsible for any meal prepared outside the home. This industry includes restaurants and hotel chains, school and hospital cafeterias, pubs and bars, catering operations, and many other formats.
As a result of globalization the world population is more dependent on the food service industries for their day to day food.Foodservice sales to restaurants and institutions are estimated to be approximately $400 billion in The US alone. The foodservice industry is one of the largest employers in the United States, European Union and most of the developed and developing countries.
Need for Inspections
In today's competitive international market, consumers are increasingly becoming aware of the food hazards and demand quality food. Retailers and manufacturers wanting to cater to these demands are asking their suppliers to demonstrate commitment to produce and trade safe food, by implementing international certification schemes.
Thus Food service Industries are under tremendous pressure to maintain their competitiveness and to adhere to the government regulations of their respective countries as 95% of the world population banks on them for daily healthy food. This has created the need for carrying out several inspections. The inspections may vary from country to country. But most countries emphasize on ingredient quality audits, shelf life audits, use by audits, best before audits, freshness audits, coloring audits, canning audits, bottling audits and grading or fortification audits, preservation audits, refrigeration audits, additive audits and so on. This has created a need for ongoing audits, as regular audit is the key to reduce the risk of non-compliance and it is the only means of ensuring quality to customer.
Inspections of today-Highly Manual
Most of the inspection teams around the world spend only 30-40% of their time in inspections and the rest 60-70% is spent on administrative tasks such as planning, scheduling, preparing checklists, documenting and reporting inspections and so on. Given the complexity of the business and increase in the types of inspections that needs to be conducted, entire inspection process has become increasingly challenging. It is found that the industry relying on manual inspection process to manage compliance and traceability are unable to achieve best-in-class status.
Need to Automate Inspections
Necessity is the mother of Invention!!! As the saying goes, To overcome this challenge food service industries from restaurants to hotel chains, school to hospital cafeterias, pubs to bars and catering operations need a one stop solution that can help inspection teams to manage the entire inspection process. Thus automating the whole inspection process decreases the processing time and increases the number of inspections the agency or company can do in a day. It provides with real-time visibility of information to those who need it so as to analyze and take up corrective and preventive measures. Cost and time involved in doing an inspection is substantially reduced.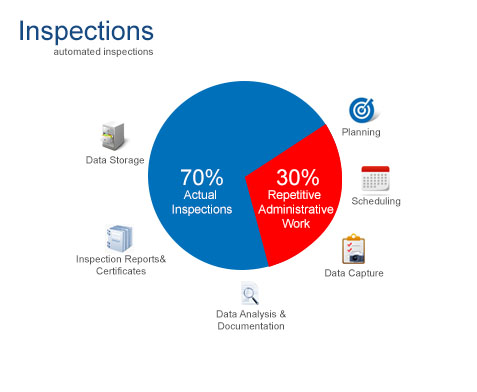 Why – Pro-Inspector
Pro-Inspector provides end-to-end solution to complete audit life cycle, from managing workforce to completing the audit.
Planning – Pro-Inspector starts from helping the Inspection teams to plan the assets or entities that need to be inspected and registering them in the system accordingly.
Scheduling – Scheduling done in the inspection team office was never this quick. It is just a drag and drop across a calendar to allocate the right inspector to the right job.
Pre-Inspection – All the information the inspector will need to prepare for his inspection will be available in his tablet in matte r of clicks.
Inspection – Inspections are systematic, efficient and paperless. Pro-Inspector helps the organization to ensure uniform quality level across all inspectors. Data collections during inspections are highly automated.
Remote approvals – Whenever inspections need to be approved by senior team members in the team, they log into back office to approve the primary reports and recommendations from field inspectors.
Follow up with corrective actions – After the reports are generated the follow ups can also be maintained and they can also be scheduled, thus completing the whole inspection life cycle.
Integration with Existing ERP – Finally it can also be integrated with the existing ERP of the Food service Industry to ensure seamless integration into the existing IT infrastructure of the company.
Report Generations – Generation of inspection reports, certificates, tickets and invoices can be done instantly after the inspection is completed. They can also be electronically printed immediately.
Who will be benefitted
Pro-Inspector suits following businesses in industry
Food Inspection Companies
Food Inspection Consultants
Quality control teams of Hotel Chains & Restaurant Chains
Government Inspectors
Confectioners and Bakers
Fast Food Chains
Restaurant Chains
Pubs and Bars
Cafeterias in schools and Hospitals
Any catering or Food production Industry
Applicable Audits & Inspections
Pro-Inspector supports following food industry audits & processes in
HACCP – Hazard Critical Check Points
ISO 22000 Food Safety Management
GMP – Good Manufacturing Practice
GAP – Good Agricultural Practice
GHP- Good Hygiene Practice
FDA
CMA & CMA-F, CNAS accredited
Approved by Entry-Exit Inspection and Quarantine bureau
Approved by SFDA
European Pharmacopeia
AOAC