Pro-Inspector for Gas Industry

Natural gas is a fossil fuel and is a combustible mixture of hydrocarbon gases. Gas has become indispensible energy resource throughout the industrialized world. Gas consumption has been increased to its peak. According to the survey conducted by US energy information administration the consumption of gas by Asian, European and American countries are 23625,18684,36592 billion cubic feet respectively. The more we consume the more we are exposed to the risk of accidents. Hence it is mandatory to conduct inspections periodically to ensure safety of our life and assets. Natural gas was transported for the first time through pipeline in the year 1891.
Based on the usage, Natural gas is classified as
Residential purpose – According to the department of energy it is estimated that natural gas is the cheapest form of residential energy source. According to American gas association Nearly 62 million homes are heated with the help of natural gas in US.
Commercial purpose – Commercial is similar to residential use which includes private and public sector enterprises. Energy Information Association states about 8368 trillion Btu's[British thermal units ] of energy is used by commercial sector through natural gas per year.
Industrial use – Industrial usage of natural gas are multifaceted. It has been used as ingredient for products such as plastic, fertilizers, anti-freeze, fabrics and so on.
Transportation sector- Compressed natural gas is used for vehicle transportation. Natural gas has been used as vehicle fuel from 1930.it is an economic alternative for gasoline and other transportation fuel.
Electric generation using natural gas- Natural gas has the property of clean burning nature that makes it to be used for generation of electricity. It reduces pollution during the generation of electricity.
Need for inspection
Gas industry because of its critical nature needs inspections to be done for the safety checks and compliance in an effective manner on a timely basis. Gas leaks may lead to serious injuries hence to ensure safety and security of people and goods it is necessary to conduct inspections by licensed professionals.
Every country has their own regulations and standards for gas distribution systems for residential & commercial purposes. All states and local authorities ensure the gas safety through government inspection or third party gas inspection companies. The inspections may vary from country to country. But most countries emphasize on periodical In-line inspection, hydrostatic testing, and camera inspection and so on.
Inspections of today-Highly Manual
Most of the inspection teams around the world spend only 30-40% of their time in inspections and the rest 60-70% is spent on administrative tasks such as planning, scheduling, preparing checklists, documenting and reporting inspections and so on. Inspection companies are facing challenges in Scheduling and engaging the gas distributors at inspection site. Tracking the gas inspection equipments and its expiration & calibration dead lines should also be taken care off. Hence gas inspection companies are under extreme work load to provide their inspection service & deliver gas safety certificates very quickly. The hazard nature in the inspection of gas makes it more complex.
Need to Automate Inspections
Inspection companies revenues are always proportionate to the productivity of the team. More over the quality of conformance is essential to ensure the safety. Automation of the inspections will double the productivity, by reducing non value added redundant tasks, with same level of resources. Uniform quality and standard is maintained across all level of inspectors. Media evidence gathering is simple and quicker. Reviewing the specifications and guidelines of the inspection becomes easier with the automated process. Utmost advantage is zeroing the time interval between conducting inspections and issuing reports and certificates. Thus Cost and time involved in doing an inspection is substantially reduced. Better visibility in the audit helps with government compliance.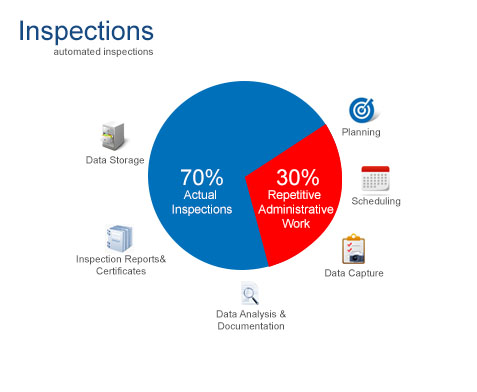 Why – Pro-Inspector
Pro-Inspector provides end-to-end solution to complete audit life cycle, from managing workforce to completing the audit.
Planning – Pro-Inspector starts from helping the Inspection teams to plan the assets or entities that need to be inspected and register them in the system accordingly.
Scheduling – Scheduling done in the inspection team office was never this quick. It is just a drag and drop across a calendar to allocate the right inspector to the right job.
Pre-Inspection – All the information the inspector will need to prepare for his inspection will be available in his tablet in matter of clicks.
Inspection – Inspections are systematic, efficient and paperless. Pro-Inspector helps the organization to ensure uniform quality level across all inspectors. Data collections during inspections are highly automated.
Remote approvals – Whenever inspections need to be approved by senior team members in the team, they log into back office to approve the primary reports and recommendations from field inspectors.
Instant certification and Invoice printing – Generation of inspection reports, certificates, tickets and invoices can be done instantly after the inspection is completed. They can also be electronically delivered or printed if necessary with portable printers.
Follow up with corrective actions – After the reports are generated the follow ups can also be maintained and they can also be scheduled, thus completing the whole inspection life cycle.
Integration with Existing ERP – Finally it can also be integrated with existing ERP of the elevator company to ensure the seamless integration in to the existing IT infrastructure of the company.
Who will be benefited
Pro-Inspector suits following businesses in industry
Gas Inspection Companies
Gas Inspection Consultants
Quality control teams of Hotel Chains & Restaurant Chains
Government Inspectors
Third party Inspectors
Applicable Audits & Inspections
Pro-Inspector supports following gas industry audits & processes in
Annual Gas Inspection
CP12 Certification
Gas Apparatus Inspection
Non Conformance of Gas System