Pro-Inspector For Insurance Industry
Insurance is the transfer of risk of a loss, from one entity to another for exchange for payments. Insurance as an industry can be broadly classified on the risk they assess and the insurance they do.
Risks shared between insurers and the insured is Co-insurance.
Risks that have two or more policies with same risk coverage is Dual insurance.
Risks that are not transferred and when they are retained by industries or individuals themselves it is called as Self-insurance.
Risks when wholly or partly transferred to another insurance company it is then called as reinsurance.
Insurance in other words can be managing risks to recover unexpected losses.
Risks can commonly be classified into;
Financial risks – Risks that are caused due to financial losses.
Pure risks – Risks that have certain reality and anything related to gambling will not have coverage.
Particular risks – Risks that are covered only within a particular area.
It is commonly accepted that only financial, pure and particular risks are insurable.
Risk which can be insured by private companies typically share common characteristics such as Definite loss, Accidental loss, large loss, affordable premium, calculable loss, limited risk of natural calamities.
Insurance industry makes out its profit as,
Profit of an insurance industry = premium + investment income –loss – underwriting expenses.
Insurers make money by;
Underwriting is a process by which insurers decide on the risks that are to be covered and collect premiums accordingly.
As a result of globalization the world population is more dependent on the Insurance industries for their well being. The overall turnover of the industry was found to be $1.1 trillion in US and over€1 114bn, up from €1 079bn in 2011 in EU making it one of the biggest industries in the US and EU. It directly employs over millions of people across the globe.
Need for Inspections
The Insurance Industry faces a fair amount of competitiveness; It needs to operate economically and effectively. Insurance as an industry is associated with all industries as every industry on the globe employs an insurance company to insure its assets. Insurances may vary from life insurance, health insurance, general insurance, vehicle insurance, industrial insurance, fire, burglary and theft insurance, flood and natural calamities insurance, terrorist attack insurance and so on…Thus it is an industry which demands inspections at all levels. It also needs to comply with the existing regulations and standards of any country it is located in. Owing to this the inspection and underwriting department are required to speed up their risk assessment, yet at the same time continuously increase their risk assessment capabilities. Effective inspection of assessments helps bringing about enhanced risk assessment capabilities having a considerable rise in expected profit. An insurance company that effectively addresses these issues will have a significant advantage over their competition.
Inspections of today-Highly Manual
Most of the inspection teams around the world spend only 30-40% of their time in inspections and the rest 60-70% is spent on administrative tasks such as planning, scheduling, preparing inspections, documenting and reporting inspections and so on. Given the complexity of the business and increase in the types of inspections that needs to be conducted, entire inspection process has become increasingly challenging. It is found that the industry relying on manual inspection process to manage compliance and traceability are unable to achieve best-in-class status.

Need to Automate Inspections
Necessity is the mother of Invention!!! As the saying goes, To overcome this challenge Insurance industries from small vehicle insurers to large Industrial insurers need a one stop solution that can help Underwriting teams to manage the entire inspection process. Thus automating the whole inspection process decreases the processing time and increases the number of inspections the agency or company can do in a day. It provides with real-time visibility of information to those who need it so as to analyze and take up corrective and preventive measures delivering enhanced risk assessment capabilities.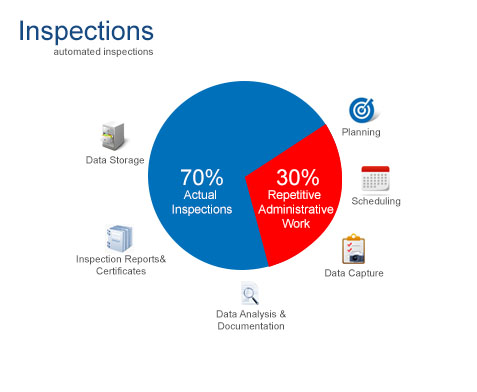 Why – Pro-Inspector
Pro-Inspector provides end-to-end solution to complete audit life cycle, from managing workforce to completing the audit.
Planning – Pro-Inspector starts from helping the Underwriting Inspection teams to plan the assets or entities that need to be inspected and registering them in the system accordingly.
Scheduling – Scheduling done in the Underwriting inspection team office was never this quick. It is just a drag and drop across a calendar to allocate the right inspector to the right job.
Pre-Inspection – All the information the inspector will need to prepare for his inspection will be available in his tablet in matte r of clicks.
Inspection – Inspections are systematic, efficient and paperless. Pro-Inspector helps the organization to ensure uniform quality level across all inspectors. Data collections during inspections are highly automated.
Remote approvals – Whenever inspections need to be approved by senior team members in the team, they log into back office to approve the primary reports and recommendations from field inspectors.
Report Generations – Generation of inspection reports that usually run into a dozen of pages and which took hours, days and weeks to compile, can be done instantly after the inspection is completed. If necessary a generated report can be modified to meet delivery criterion of the client. They can also be electronically delivered immediately.
Follow up with corrective actions – After the reports are generated the corrective actions can also be maintained and they can also be tracked for future inspections, thus completing the whole inspection life cycle.
Integration with Existing ERP – Finally it can also be integrated with the existing ERP of the Insurance companies to ensure seamless integration into the existing IT infrastructure of the company.
Who will be benefitted
Pro-Inspector suits following businesses in industry
General insurance companies
Vehicle insurance companies
Industrial insurance companies
Applicable Audits
Pro-Inspector supports following insurance industry audits & processes in
Risk evaluation Audit
Proposal analysis Audit
Public insurance claims Audit
Fire insurance analysis Audit