Pro-Inspector for Public Safety & Security
Safety is the state of being "safe" (from French sauf), the condition of being protected against physical, social, spiritual, financial, political, emotional, occupational, psychological, educational or other types or consequences of failure, damage, error, accidents, harm or any other event which could be considered non-desirable. Thus Public Safety in any country is about protecting the respective people and their possessions.The compliance and adherence is a routine activity that government agencies should invariably handle with utmost care at regular intervals.
The most important Public Safety industries in any country are
Emergency management solutions
Law enforcement solutions.
Any country will wish to save its citizens. Any government will always wish peace to be prevalent inside the country at all places and at all times. Living in a safe as well as secured surrounding and moving around without worrying about personal safety is everyone's aspiration. Any compromise on this will not only jeopardize the individual's life, it will result in raising a serious question about the society's harmonious fabric as well.
Need for Inspections
In today's world public safety has become a big question in all developed and developing countries. As the world is marching towards globalization we also have several pull backs in the society caused by nature or the human race like earthquakes, hurricanes, floods, typhoons, communal clashes, riots, terrorist attacks and so on…Each country should respond immediately to all these so called emergency situations and thus are the public safety departments set up with carrying out detailed inspections at every point of each forward step. The inspections may vary from country to country ranging from weather inspections, traffic inspections, immigration inspections [men and cargo], crime hotspots inspections, data sharing inspections, communication inspections and any inspection considering air, land and water. Thus the respective country public safety departments should be all the time inspection ready to serve and support customers.
Inspections of today-Highly Manual
Most of the government public safety inspection teams around the world spends only 30-40% of their time in inspections and the rest 60-70% are spent on administrative tasks such as planning, scheduling, preparing checklists, documenting and reporting inspections and so on. Given the threats met by each country, increase in the types of inspections that needs to be conducted relatively increase. Entire inspection process has become increasingly challenging. It is found that the government departments relying on manual inspection process to manage threats are unable to ensure full safety to their fellow citizens.
Need to Automate Inspections
Necessity is the mother of Invention!!! As the saying goes, To overcome this challenge all government public safety teams need a one stop solution that can help inspection teams to manage the entire inspection process. Thus automating the whole inspection process decreases the processing time and increases the number of inspections the teams can do in a day. It provides with real-time visibility of information to those who need it so as to analyze and take up corrective and preventive measures even during emergency. Time involved in doing an inspection is substantially reduced.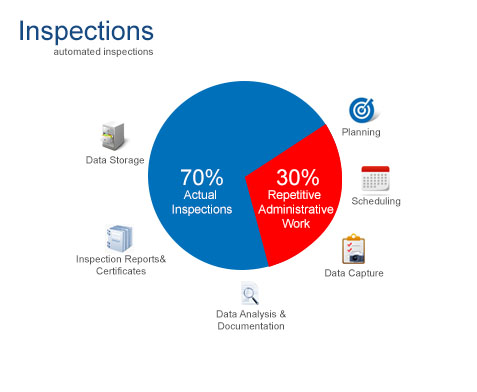 Why – Pro-Inspector
Pro-Inspector provides end-to-end solution to complete audit life cycle, from managing workforce to completing the audit.
Planning – Pro-Inspector starts from helping the government public safety teams to plan the inspection criterion that need to be inspected and registering them in the system accordingly.
Scheduling – Scheduling done in the public safety team office was never this quick. It is just a drag and drop across a calendar to allocate the right inspector to the right job.
Pre-Inspection – All the information the inspector will need to prepare for his inspection will be available in his tablet in matter of clicks.
Inspection – Inspections are systematic, efficient and paperless. Pro-Inspector helps the public safety teams to ensure uniform quality level across all inspectors. Data collections during inspections are highly automated.
Remote approvals – Whenever inspections need to be approved by senior team members in the team, they log into back office to approve the primary reports and recommendations from field inspectors.
Report Generation – Generation of inspection reports can be done instantly after the inspection is completed. They can also be electronically printed immediately.
Follow up with corrective actions – After the reports are generated the corrective actions can also be maintained and they can also be scheduled, thus completing the whole inspection life cycle.
Integration with Existing ERP – Finally it can also be integrated with the existing ERP of the public safety companies to ensure seamless integration into the existing IT infrastructure of the company.
Who will be benefitted
Pro-Inspector suits following businesses in industry
Public safety department
Land and fire safety departments
Civil enforcement departments
Forest departments
Record maintanence department
Judicial departments
Theme parks
Adventure parks
Theatres
Malls
And all departments of any government or private organization that ensure public safety.
Applicable Audits & Inspections
Pro-Inspector supports following Public Safety & Security audits & processes in
Immigration Inspections [men and cargo]
Event management Inspections
Highways or Road Infrastructure Inspections
Crime hotspots Inspections
Data sharing Inspections
Government Communication Inspections and
Any inspection considering air, land and water